We 'get' hotels and guests. We've stayed at loads and worked in quite a few. We know that you are chasing that higher RevPAR, checking occupancy levels for next month and working out what extras your guests will pay for! We are all about making growth easier.
The Today Dashboard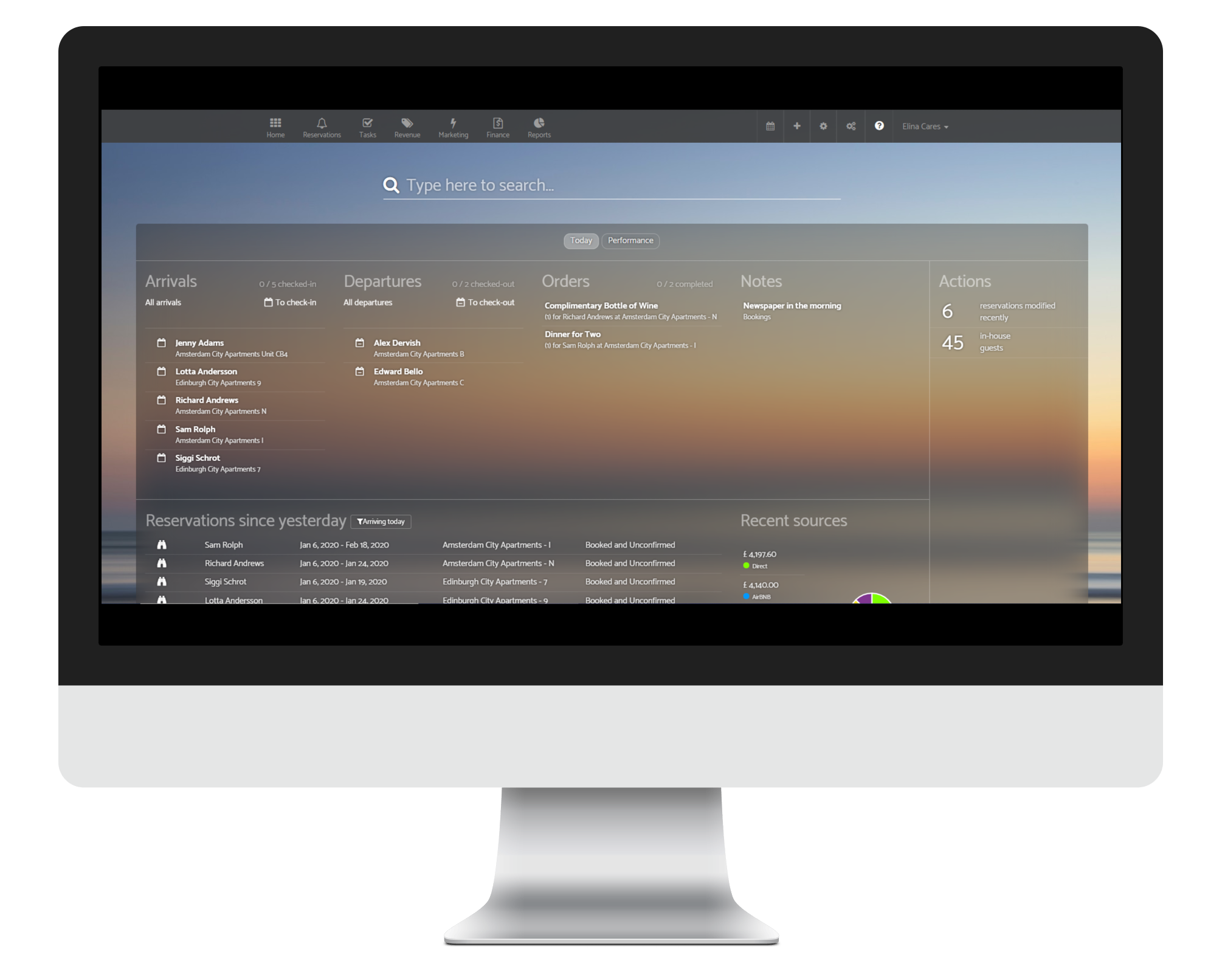 The 'Today' Dashboard displays quick links to check in or checked in and also to 'check out' and 'checked out', just as well as quick links to all arrivals and all departures for the day. Notifications are labeled as 'Actions, and navigation is made easier as through scrolling arrivals and departures lists on the dashboard. Reservations with 'arriving today' label to overall improve the usability is in place, where the latest reservations made since yesterday is made visible of which ones of those are due to arrive today.
Growth focused
Today dashboard with actions, ways to reduce cost of sale, powerful analytics, marketing tools
centralised management 
Manage centrally single or multi-locations, reservations, tasks & operations, revenue, finance & reports
automate tasks
Invoicing, payments, deposits, updating OTAs, allocating reservations, communication, pricing
Sellable Pickup Report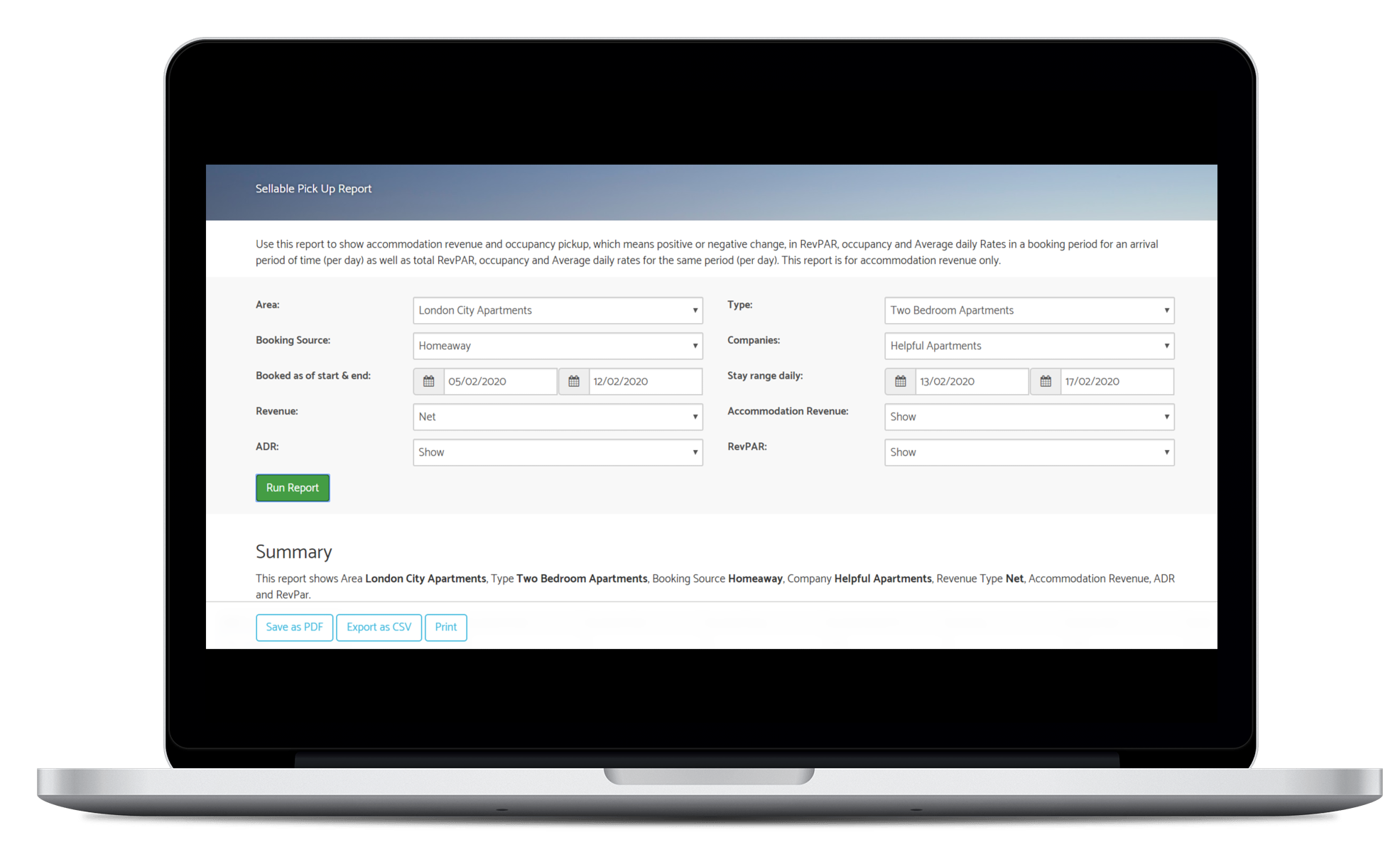 Use the sellable pick-up report helps to see pick up and change in ocupancy, revenue, RevPAR and average daily rates for a booking period for bookings taken into an arrival period of time (per day) for stays. Use this to help to make decisions on whether to increase or decrease rates.

smart.be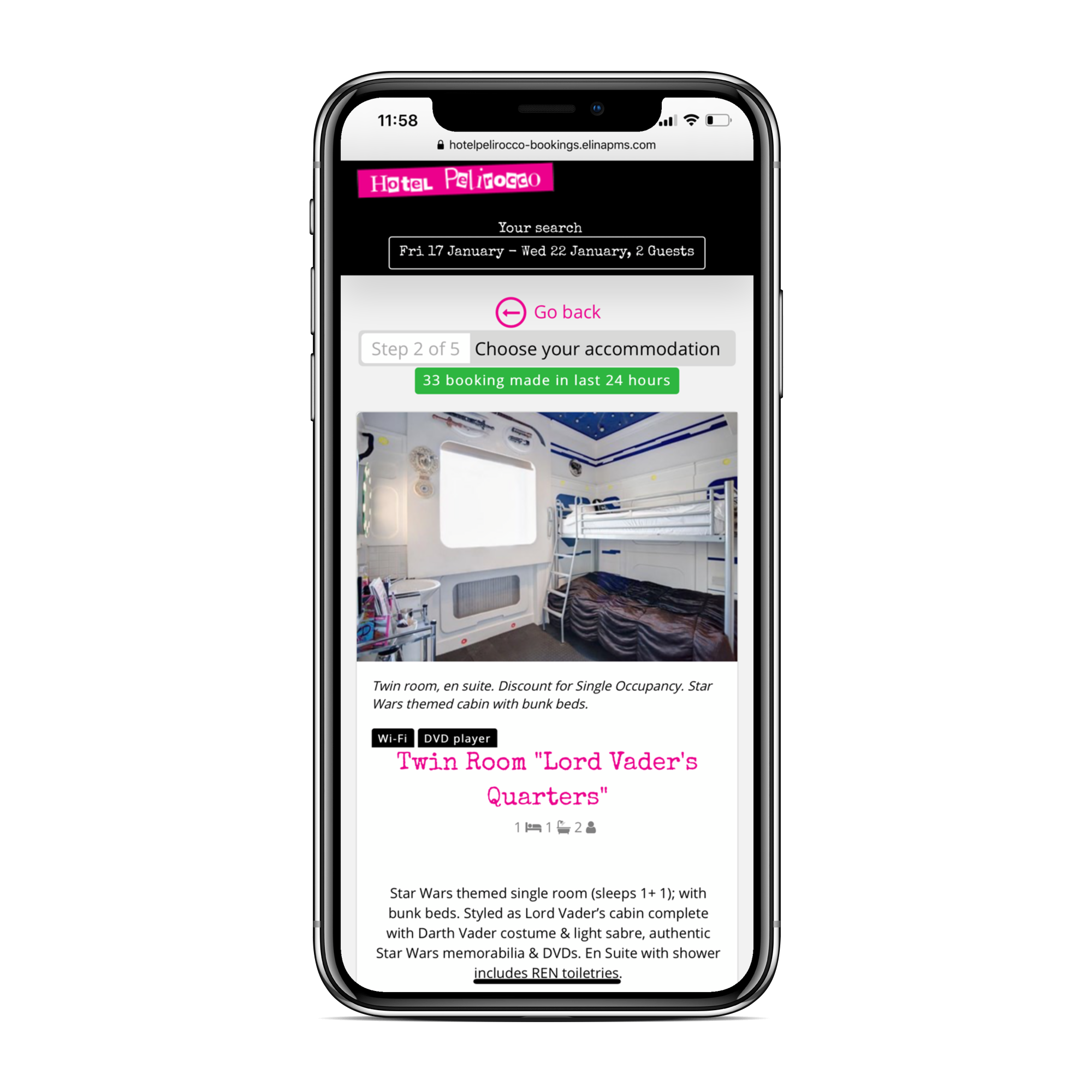 SmartBE is an easy to set up booking engine for your website with some cool features
Urgency / social proof messages to increase conversion
Fast for return guests
Promote multiple rates or deals
Control the content - fonts, colours and more
Quick to set up!
more direct bookings
Intelligent booking engine, promotions, price control per channel, Google enhanced eCommerce 
Staff friendly
Modern design for usability, support centre with user guides, FAQs and videos, phone & email support 
choose integrations
Find integrations to apps, products or services that will help you save more time, improve revenue and experience 
"elina property management system gives me advanced tools for managing revenue, rates, guests and companies. The booking engine has led to an increase in direct bookings from the visitors we get to our website, which has been great! I'd recommend to any general managers looking for software which does more." Tom, GM, The Cow Dalbury
Set up your hotel PMS software for success
Tip 1: Get guests to login
Make it easy for guests to login and check their reservation, download and print their reservation invoice, edit their personal of reservation info, or will simply tell you the time they are arriving. For hotels, the less time the team are on the phone, helping past guests, or future guests, the more time they are spending on helping guests staying right now, or closing enquiries and increasing revenue. The way to do this is to have clear calls to action in all automated email communication informing guests they can login and self-service.
Tip 2: Automate rate changes
Set up your rates in elina to increase based on occupancy and other rules. Whether you want to increase rates when your property, or an individual room type achieves a certain amount sold, is up to you. You can also use the rate manager to decrease pricing automatically within a defined number of days if you still have a number of rooms to book. Overall, using rules like this to manage direct and OTA pricing will save time and increase revenue in your hotel PMS software. You can also pick an integrated partner such as Outperform RMS, as an add on and use in depth market, competitor and performance data to determine rate changes which use algorithms to make decisions.
Tip 3: Strategically control OTA availability
Given the high cost of sale on different OTAs, you can choose to manage your availability by using withholding on elina PMS. Hotels are often busy on weekends on business travel days in the week. Using rules you can define within which window of time, so for example all weekends, or always more than 90 days away you either give zero or limited availability to certain OTA channels. This can reduce cost of sale and operational costs of processing a high number of cancellations. Using it strategically can also increase the number of direct reservations, by protecting the last few rooms to far ahead to be sold direct.
Tip 4: Upsell extras
Margin on food and beverage and other extras can be very good and selling more can really increase revenue. During the reservation process and after, set up your hotel PMS software to offer add ons or extras, such as welcome packs, extra beds, airport pick-ups (helpful), flowers, wine and more. You can also use add ons to allow guest to secure free services. You can set up as many categories and extras as you wish, giving each one an image, value and description. Go further and determine whether they are available on arrival, or departure, collect request comments and even allow the guest to choose the exact day they want the extra delivered to their room.