The importance of blogging - why you should blog
Many of our clients talk to us about the importance of blogging and ask whether they should consider starting a blog. Our answer is always yes, yes and yes!

Blogs are a great marketing tool for serviced apartments and accommodation providers especially. We have come up with our top 10 great reasons for starting a blog:

1. Blogs create content

Starting a blog is a great way of creating content. By introducing a blog, you have the capacity to add new pages to your website on a regular basis. Each new blog article is a whole new index-able page for the search engine to find and score.
In terms of the length of your blog, the current thinking is that the longer the better and we recommend an absolute minimum of 300 to 400 words and ideally over 1,000 words. The longer blogs create more new words for the search engines to index and also help let the search engines know exactly what the page is about.

It is important to make sure your blog article is focused on a single topic so you rank well in that particular area, rather than badly for a range of topics or keywords. When writing a longer blog make sure your blog is well structured, easy to read and divided into sections.

2. Blogs allow you to introduce keywords, great for Search Engine Optimisation (SEO)

When you create your own blog you also have the opportunity to introduce keywords that will attract the right audience and help with your search engine optimisation. Google's AdWords Keyword Planner is a great tool for checking how popular certain keywords are and how often they get searched each month. It also tells you how competitive that keyword is. Our advice is to always focus on 'longer tailed keywords' which have less competition but bring better quality traffic.

Make a note of the keywords you wish to include in your blog before you start to write but make sure they appear naturally and don't 'over stuff' them into your blog. Avoid using the same keywords on multiple pages as this can result in 'keyword cannibalisation'. The search engine becomes confused with a number of pages covering the same topic and as a result none of the pages score well. Far better to have separate pages or separate blogs focused on separate topics which all go on to score well.

It is also perfectly acceptable to have the odd post which isn't keyword focused at all and is purely informative.

3. Blogs allow you to update your content regularly

A serviced apartment or holiday accommodation website can be fairly static as the information regarding your apartments and your services typically does not change significantly over time. This makes it hard for service apartment and accommodation providers to add new content unless of course you have a new property to brag about.

Google and other search engines like freshness, and new content scores highly. By writing a blog you gain the ability to regularly add new content to your site, something that will keep the search engines happy and will help your rankings!

4. Blogs allow you to develop a personality for your brand and your website

Starting a blog is a great way to give your brand personality. For instance if you are offering chic serviced apartments in a cool city centre, reflect that in your blog. Write about the local neighbourhood, the trendy bars, restaurants and street art which are all on your doorstep. Include great images which reflect your brand and your brand position.

5. Blogs give you a voice to inform your customers and peers

As you create your own blog, with more and more articles about your neighbourhood and the great things to do in your area, you gain the opportunity to inform your customers and your peers. You also become a valuable source of local information. Tell everyone more about you, your business and the area your business operates it. Have you just won an award, has a new trendy bar opened on your street, or is there a popular ice cream parlour across the road. All these things will make your brand more appealing and more importantly customers will be able to visualise how they can use their spare time when visiting.

6. Blogs make you think outside the box and review your local neighbourhood

Blogs are a great way of making you take a step back and see the bigger picture. Go out and about and talk to neighbouring businesses. Eat at the local restaurants and drink at the local bars, if you don't already! Find out who their customers are and talk to the demographic to find out what motivates them to be there. Maybe your neighbourhood is great for up and coming artists. Why not support those artists by commissioning some art to display on your premises, or offer them some gallery space – and then blog about it!

7. Blogs give you something to share and talk about on your social media channels

Another great reason for starting a blog is to help your social media. A blog article gives you something to talk about and share. Choose topics that people are likely to share and post them on Twitter, Facebook, Google + and LinkedIn. Add your blog to your email signature.

Take time to review a local attraction or a great new restaurant in the area. Make use of the keywords and find popular hashtags to spread the word. Put your own personality into the blog, write about your own personal experience and make your story stand out from the crowd.

8. Blogs encourage third party links

By blogging about your neighbouring businesses you will create a rapport with other business owners. Get to know them and keep them informed about what your business is achieving by sharing relevant blogs with them. Frequently reference the content of others in your community in your blog pages and interact on other people's blogs. Who knows, they may offer your customers a special deal, write a reciprocal blog or set up a reciprocal link from their website which are all great for your business.

9. Blogs drive traffic you wouldn't otherwise get

When you create your own blog, you are creating the opportunity to build traffic from a whole new audience. A blog on a local bar, or an up and coming artist, will bring in different people to those looking for accommodation in the area. But they are still potential customers. If your blog is written with links to other blogs and stories of the local community you can then sell your 'destination' to them and more likely to secure a booking before they scour the competition.

Example

We started a blog for one of our clients in mid-2014. Throughout 2015 and 2016 the percentage of traffic coming from the blog grew from 2.86% to an impressive 11.67%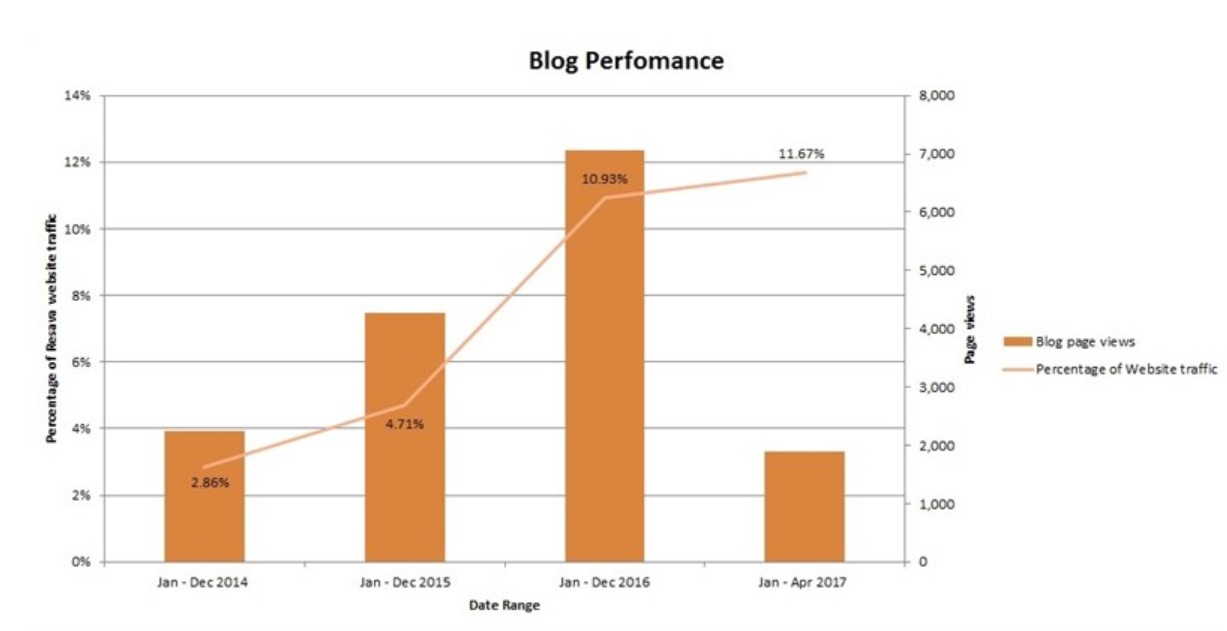 More importantly the number of landing pages generated by the blog grew to 19.07%, ie. Nearly a fifth of all website traffic was coming from the blog alone.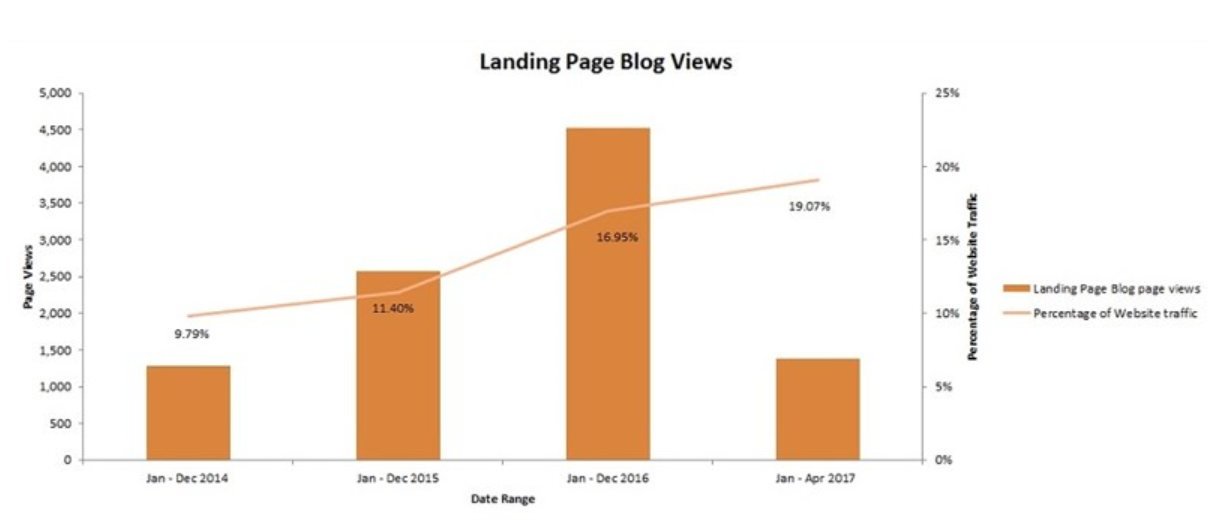 10. Blogs give you a contact point at the prime part of the DM process and the path to purchase

Finally one of the best things about starting a blog is that you are creating content that will reach people at the start of the decision making process.

'Think with Google' have a great article summarising some research they with Luth Research looking at the micro-moments for a person planning a trip over a couple of months. The resulting research showed that 'Amy had 419 digital moments researching her trip over 2 months'. The majority of these were on her mobile phone (87%) and the remainder were on desktop. She looked at 5 videos, visited 380 web pages and undertook 34 searches.
When you have your own blog you are reaching people like Amy at the beginning of this path to purchase. 
Google also categorise four phases of micro-moments when planning a trip:
I want to get away
Time to make a plan
Let's book it
Can't wait to explore 
By providing good information about your neighbourhood, you can attract visitors to your website in any one of these phases. Your blog should be informative rather than sales orientated but can include a strong 'call to action' at the end. For instance you could say

"If you are planning to visit the area and need somewhere to say, we recommend . . . . "
Ultimately a blog is really there not so much to gain bookings but to become a valuable source of local information to spread brand awareness, and local knowledge.  It provides the opportunity to capture potential guests in their exploration phase before they have even thought about looking for accommodation.
We do hope that has given you some useful thoughts about the importance of blogging and how a blog can work for your business.

If you want further help and advice on starting a blog for your holiday rental or serviced apartments, our team here at elina PMS are experts in your field and know everything there is to know about driving results. 

Feel free to give us a call +44 (0)20 305 17 305 or contact us to pick our brains even more!
Most recent blog posts
Categories